Exterior cleaning services keep your property looking new!
Ugly Shingles PA can clean any exterior area of home without causing damage to the roof, siding, or concrete. Our exterior cleaning services are available for commercial properties too!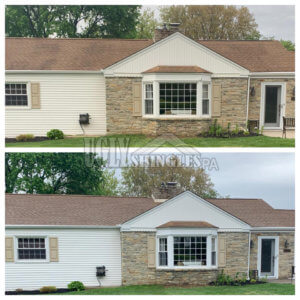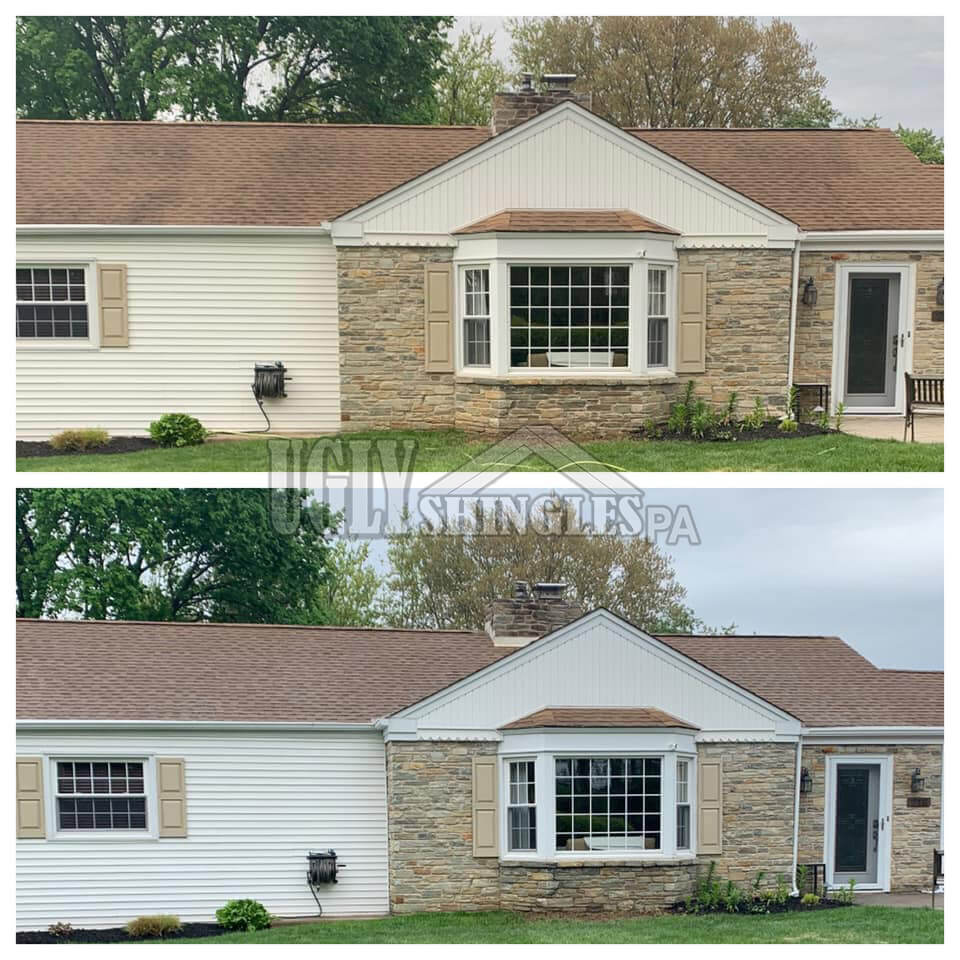 Asphalt Shingles • Brick • Stucco • Concrete • Vinyl Siding • Decks • Sidewalks • Gutters
Our Soft Wash system provides eco-friendly cleaning process which causes no harm to your property. We maintain full licenses and general liability insurance. We treat every customers property as if it was our own.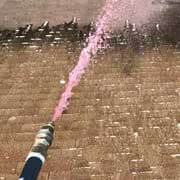 Soft washing is an alternative washing process that utilizes a formula to safely clean and remove the bacterial growth. The cleaning process uses eco-friendly and environmentally safe solutions to softly wash residue and dirt from the exterior of your house. It is recommended for shingle roofs and other roofing material since it will not damage the exterior of your house. We use our soft wash system on roofs & siding since it is gentler and cleans better than traditional power washing.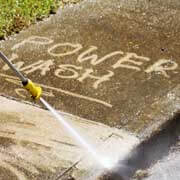 Power Washing Services
Power Washing involves using a high pressure spray to remove dirt, mold and other particles. Our technicians have the proper training with this heavy equipment to safely clean the flat surfaces of your property such as concrete, by using our high-tech power washing services.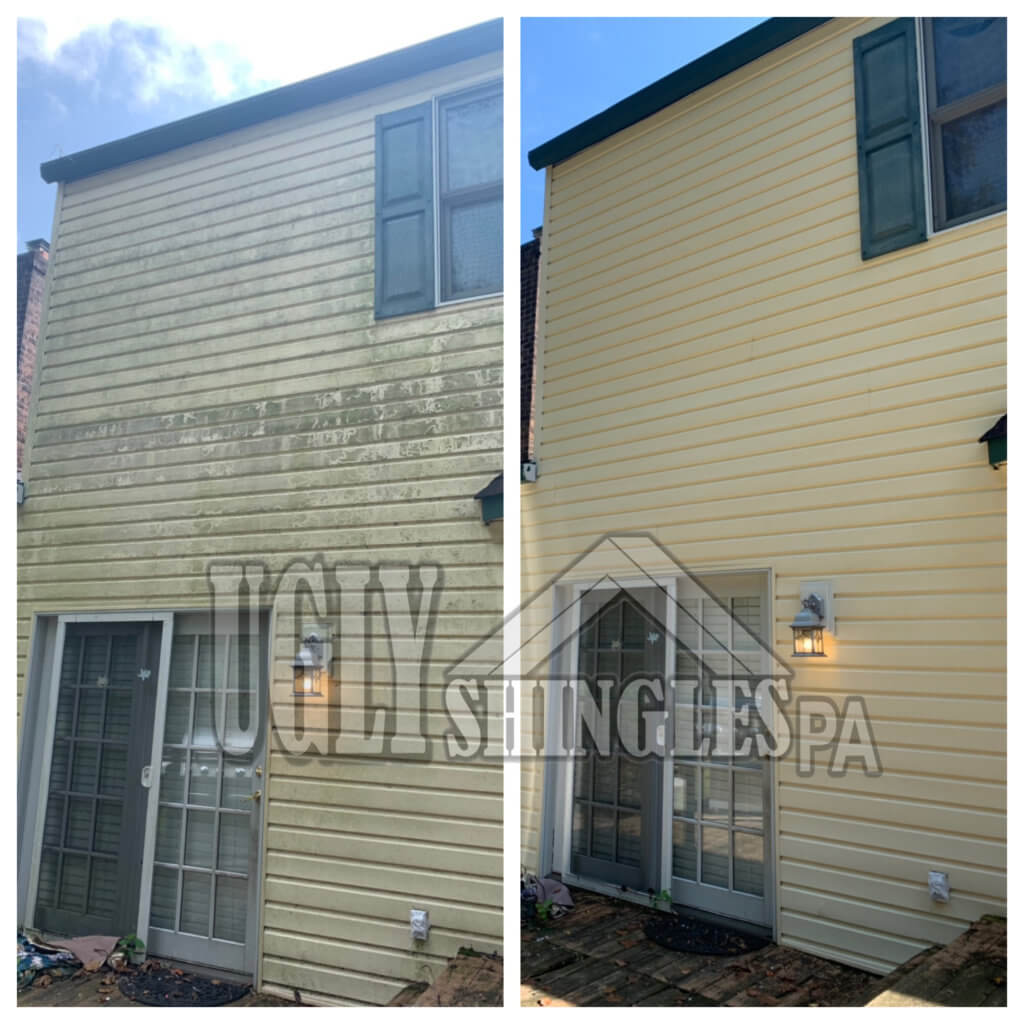 Our Soft Wash process kills the dirt, mold, and bacteria on the siding of your property. Soft-washing is used rather than pressure washing methods, because the soft wash process will not push the water or dirt behind the siding and into your walls which can cause damage in the future. Power washing can also chip paint which is not the result you want from a cleaning.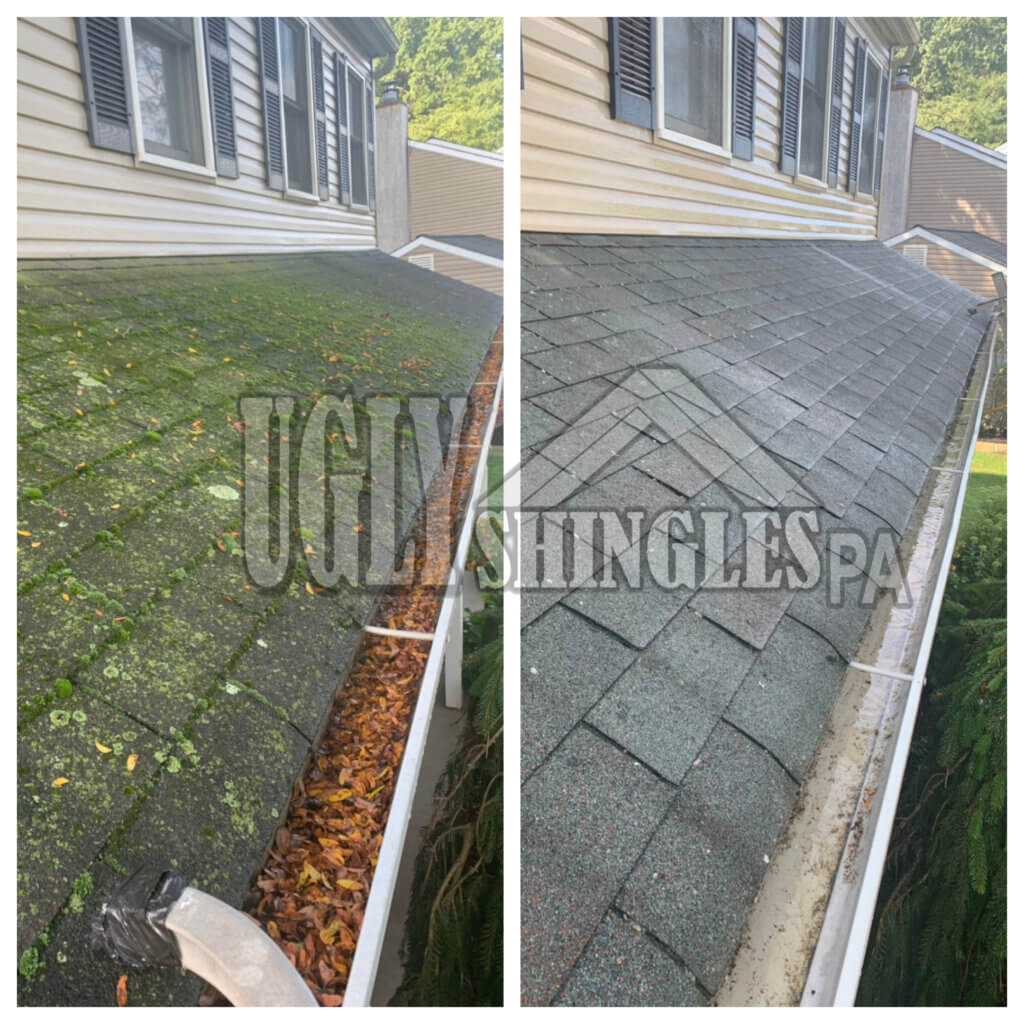 A gutter system is necessary to avoid rain damage and mold on the siding of your house. When your gutter system gets clogged with leafs, twigs and dirt particles, the rain water will no longer flow down them as it should. We can have your gutter system flowing normally and looking like new! Bye bye green and black spots!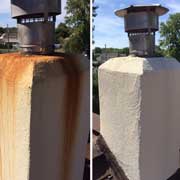 Rust stains are caused by metal which deteriorates over time due to weather elements. These stains can be unsightly causing your property to look like it has not been maintained. Ugly Shingles PA can remove rust stains increasing the value and curb appeal of your property.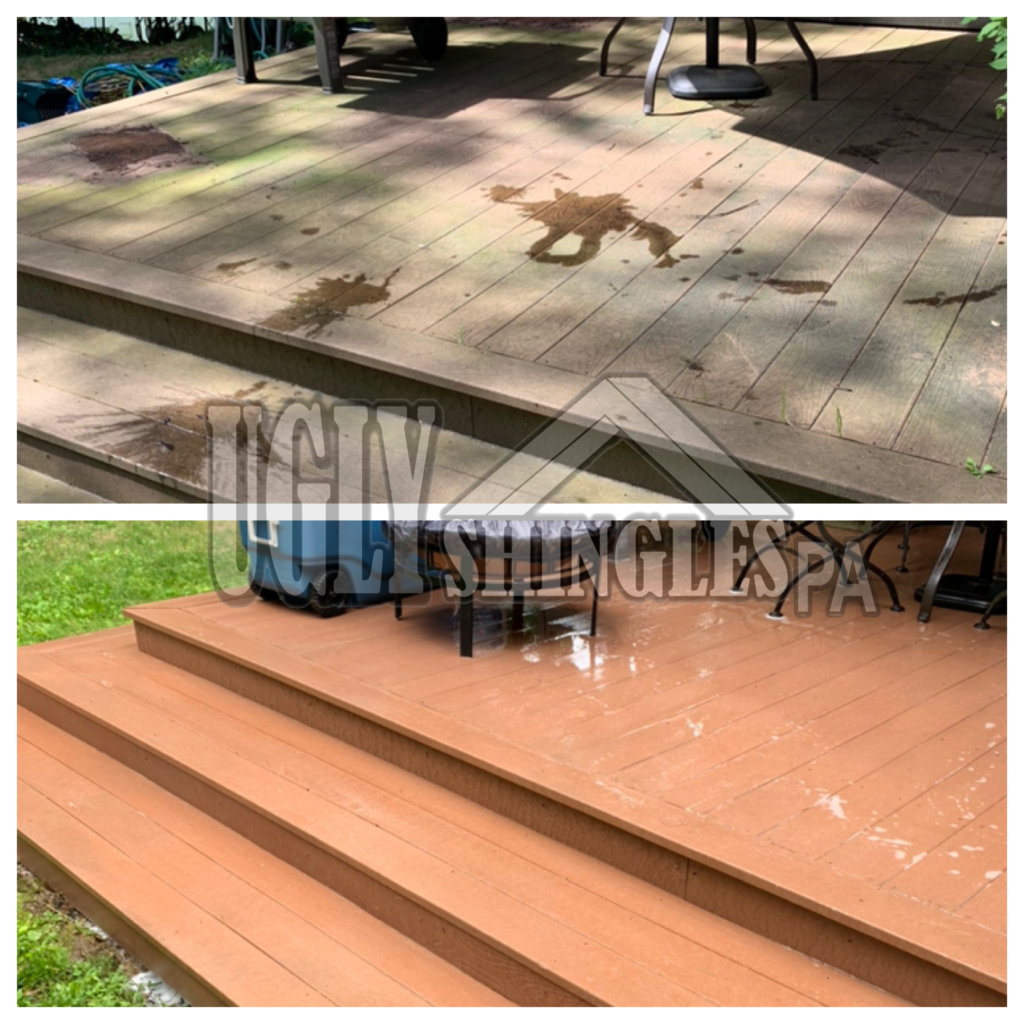 Your patio is the highlight of your outdoor summers. This is supposed to be an area where your family can come together and enjoy time with each other. Unfortunately, dirt, harsh weather elements and outdoor residues can damage the patio of your home. Ugly Shingles PA provides patio cleaning services to restore your patio and make the space attractive again.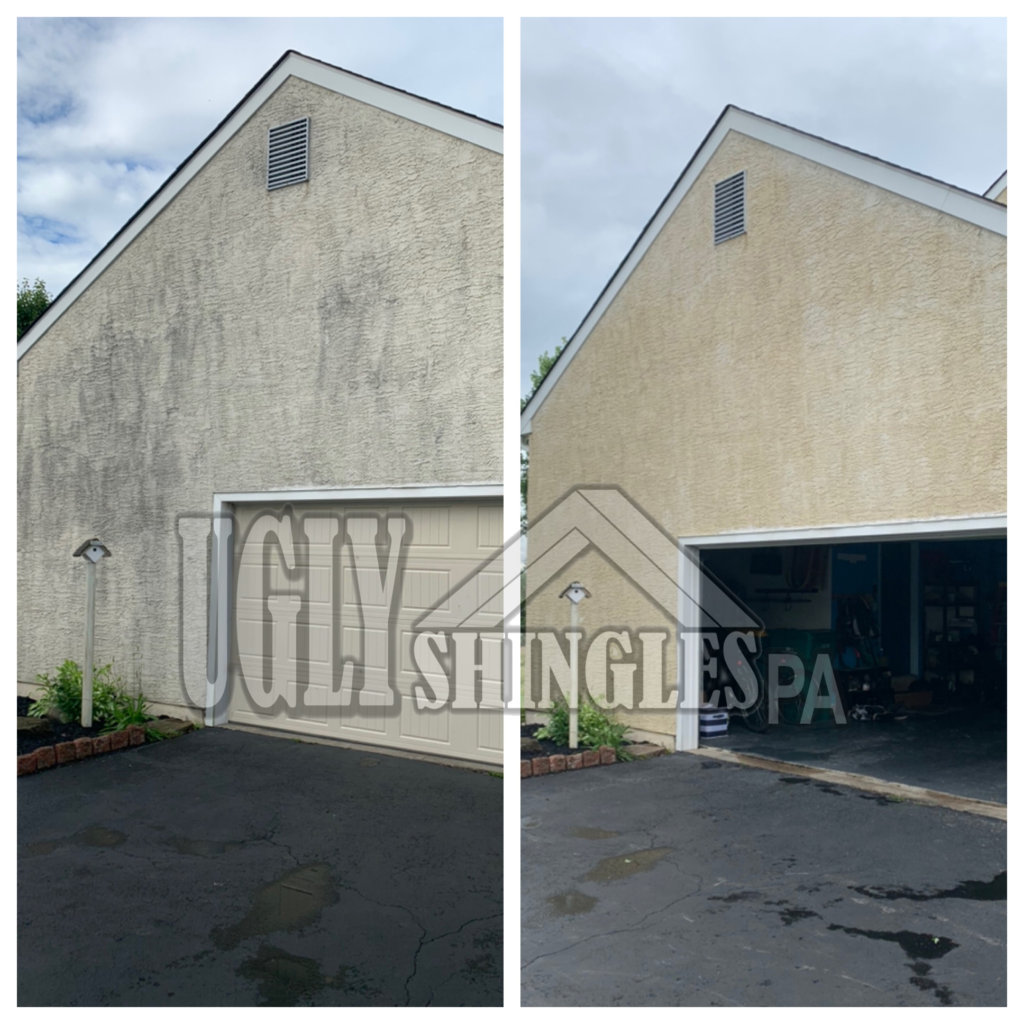 Stucco is extremely delicate. Ugly Shingles PA utilizes its soft-wash process rather than pressure washing when cleaning stucco so no damage is caused. Our professional exterior cleaners will restore your stucco to like new condition. If you are considering painting a stucco structure, cleaning it to remove dirt and algae is your first step. Soft washing it will keep you from having to repair the stucco before you 80repaint.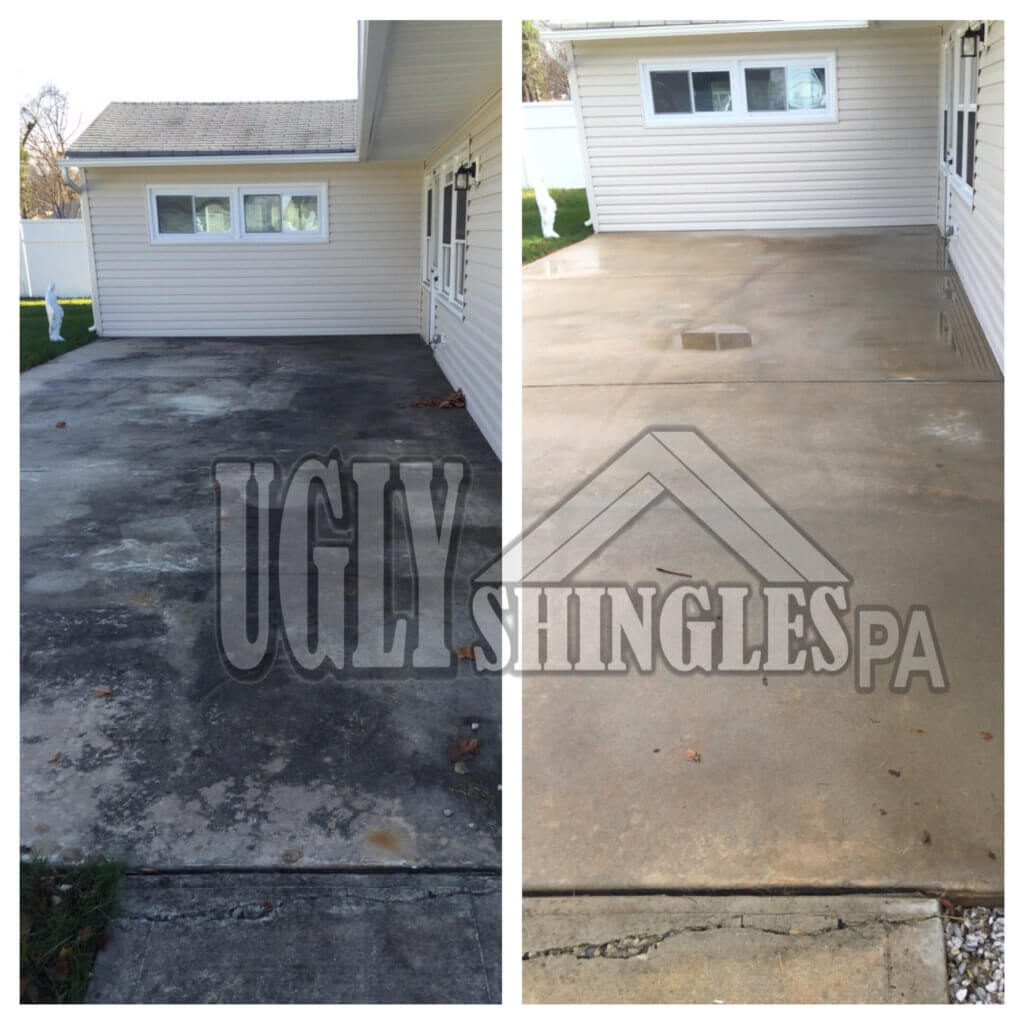 Overtime, consistent use of your sidewalks and walkways causes algae and dirt to build up on the surface making it unattractive. Ugly Shingles PA has the resources to make your sidewalks and walkways look like new!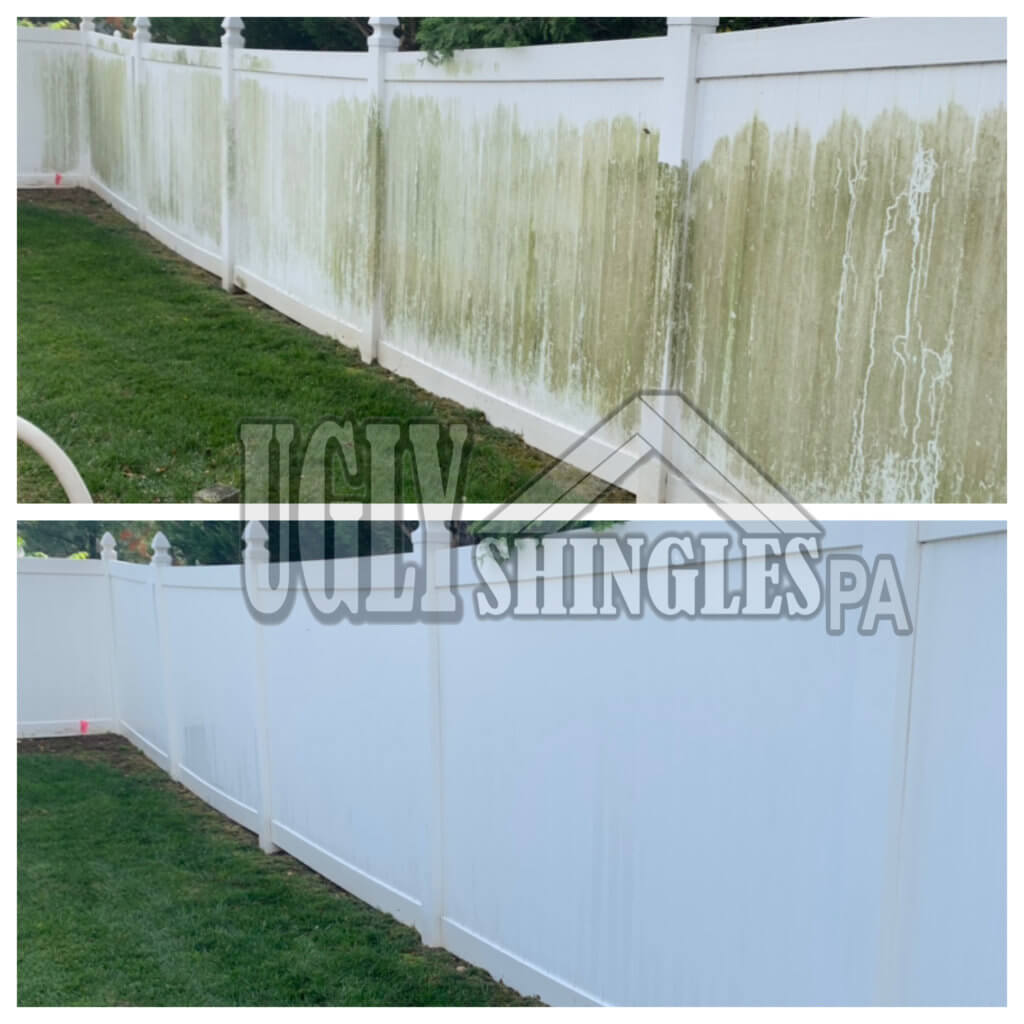 A long, white vinyl fence or a wood fence can easily become discolored and tarnished by rain, dirt, mold or mildew. Your fence is exposed to the elements all day long. Our cleaners provide an eco-friendly fence cleaning service to all of their customers.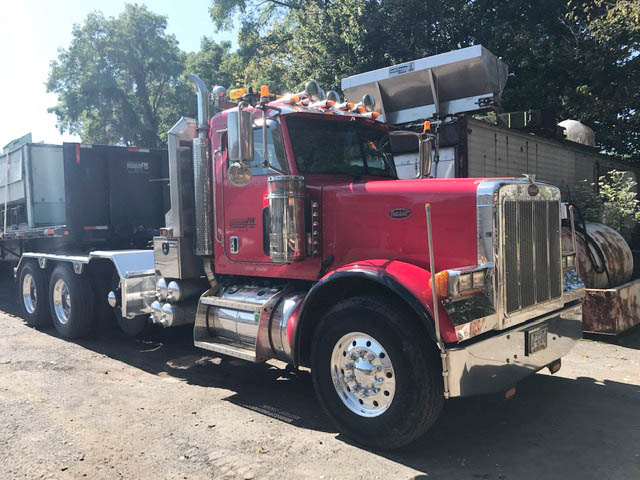 Ugly Shingles PA now offers fleet washing services. We will come to your facility to perform complete fleet washing for all of your vehicles and trucks.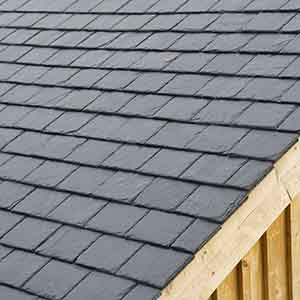 Slate Roofs
Soft washing slate roofs is important for safely removing moss and dirt. Soft washing does not involve pressure washing, which can be too abrasive for slate surfaces. Instead, soft washing uses low pressure and a specialized cleaning solution in order to gently remove moss, dirt, and other debris from the surface of the slate without damaging it. This can help to extend the life of the slate and keep it in good condition.