Don't Let a Dirty Fence Overshadow Your Beautiful Home
Constant exposure to the elements damages your fence over time. A long, white picket fence or a wood fence can easily be discolored and tarnished by rain, dirt, mold or mildew. When you allow your fence to remain stained, the wood can weaken and become easily damaged.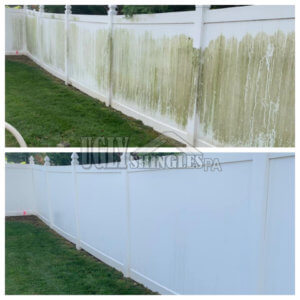 Ugly Shingles PA provides professional fence cleaning services to Bucks County, PA and the surrounding areas.
There are several different types of fences to build around your home. Some of the most popular fences include chain link fences, wood fences, and white picket fences. All of these fences are constantly hit by bright sunshine, harsh rain and other wood weather elements.
Our fence cleaning services make for one of the most dramatic differences in our before and after pictures. The amount of wear and tear your fence takes day in and day out may not be obvious to you, but it is there. Our professional Bucks County, PA fence cleaning services will have your fence looking brand new again.
Leaving your wood fence covered in dirt and stains makes it look unsightly, causing the wood to decay faster and lead to costly repairs. Spending the time and effort now, will save you money in the long run.
At Ugly Shingles PA, our fence cleaning services are completed by professional power washing specialist. We train all of our specialists in the latest power washing services to ensure that your fence is not damaged during the cleaning processes.