Siding Cleaning Services Help Your Siding Last Longer
Masonry • Brick • Stucco • Stone • Wood/Cedar Siding • Vinyl Siding • Dryvit • Aluminum Siding
No matter the kind of siding on your home, chances are, at least part of it gets dirty. Mold, moss, mud, algae, none of it is good sitting on the exterior of your home. Siding cleaning services can help!
The general rule of thumb for cleaning vinyl siding is about once every 2 years. Cooler, wet climates may require once a year to keep mildew from getting out of control
Siding cleaning from Ugly Shingles PA cleans your home siding with our soft wash process to remove mold, mildew, algae, soot, and dirt that will make any home unattractive. This system is less damaging than traditional pressure washing as the force of water doesn't get under or behind your siding (which causes more mold and algae to grow) and it doesn't break stucco or brick like the force of power washers can. The solution we use is the secret to getting your home clean!
Our Soft Wash process removes the graying and blackening on your wood siding and prepare it for sealant or stain to restore the siding's natural color – keeping it looking beautiful for many years to come.
Mold and algae attacks vinyl and wood siding. Ugly Shingles PA removes algae, beautifies your siding, and improves the curb appeal for your home – Saving you thousands of dollars in the cost of replacing.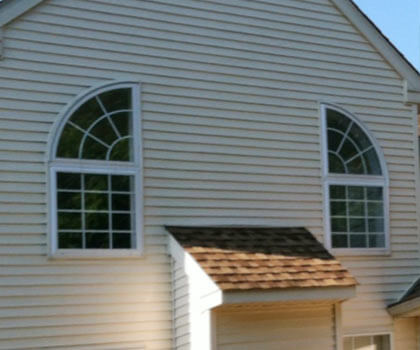 Spring is the best time of year to clean your siding because it is best to do in sunny, mild weather. Fall isn't ideal; as leaves fall back on your property they are likely to leave dirt from decomposition.
Have your home looking clean for the outdoor weather months!