A Dirty Gutter Isn't Just Ugly, It Can Be Damaging to Your Home.
The gutter's job is to catch the rain that rolls off of the rooftop. The pipes then transport the rainwater to a safe disposal area.
Without a gutter system, the roof of your house and the siding of your house would suffer from severe water damage. Unfortunately, rainwater is not the only thing gutters can collect. Over time gutters can collect particles such as leaves, twigs, small branches and other harmful material. This causes your gutter system to clog and overflow during heavy rainstorms.
Your gutters are an important feature of your house, and if you allow them to become clogged or dirty, they become useless. A house without a proper functioning gutter system will suffer from severe damages, and the results will cost you more money in costly repairs.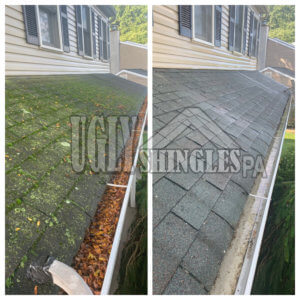 Ugly Shingles PA is a professional power washing company that also specializes in gutter cleaning services. Cleaning out your gutters is recommended several times a year, especially during the fall. Our professionals will clean your gutters, improve the rainfall flow and minimize damage to your roof and house.
In addition to cleaning the gunk out of your gutters, Ugly Shingles PA also provides a gutter brightening service, which makes your exterior gutters look like new by cleaning the streaks and dirt from your gutters-increasing the overall look of your home's exterior.
Cleaning out a gutter system is a ghastly chore, and without the proper equipment the job could go on for days and may be dangerous to you the homeowner. Hiring Ugly Shingles PA to clean out and clean up your gutters will save you time and money and help your home look and function like new!