Roof Cleaning with our Soft Wash Process-Restore Your Roof Today!
When our Certified roof cleaning crews arrive at your home, they assess your roof and perform a complete inspection of the overall condition. Any roofing issues that we think you should be aware of will be brought to your attention and photographed for your records.
Our roof cleaning crew then applies the first coat of cleaner. The first coat is a direct application of our soft wash solution to the more severe areas on your roof; this will allow those areas to dwell for 10 to 15 minutes prior to the full application.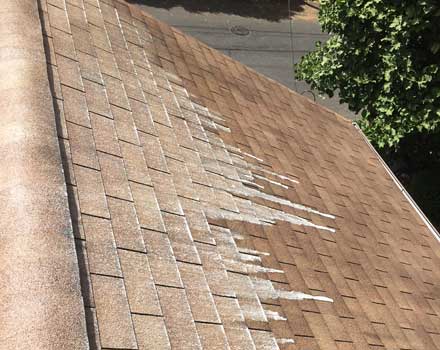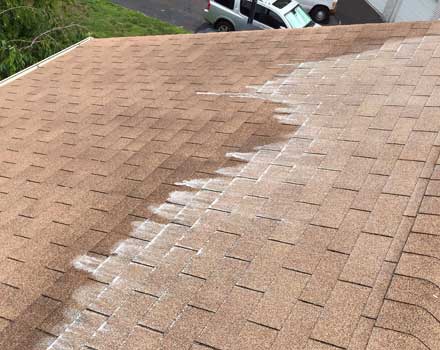 The second coat is a full application of all areas of growth. This coat will eradicate 99.9% of all bacteria, restoring the proper appearance and condition to the once- infested shingles. Our roof cleaning technicians are fully trained to identify even the earliest signs of growth, so all areas will be treated regardless of the stage.
We offer a five-year "Streak-Free" Limited Guarantee with all treatments. There is no waiting time before you see the results.
10 Reasons to Get Your Roof Cleaned
Increase Curb Appeal!
Roof cleaning is a small cost that makes a HUGE difference! It is an inexpensive, fast, and a dramatic home improvement!
Improve Longevity of Your Roof!
Get the most out of your shingles with our 100% biodegradable soft wash formula!
Reduce Utility Costs!
Removing black stains provides a more reflective roof surface and may help keep energy bills down.
Maintain or Increase Your Home's Value!
Soft washing your roof and exterior will restore it back to its original look and health, helping to maintain the value of your home or business.
Increases Roof Life!
Prevent premature leaks and cracks due to algae, moss, and lichen.
It is Not Old, It is Mold!!- Clean It, Don't Replace It!
Algae are living organisms that can shed years off the life of your shingles!
Save thousands of dollars with roof cleaning. The average prices to soft-wash a roof is about 1/10 the price to replace it!
It is Manufacturer Recommended!
ARMA (the Asphalt Roofing Manufacturers Association) and GAF Shingles (North America's largest shingle maker) both recommend that shingles are cleaned with safe, non-damage, non-pressure soft wash methods.
5 Year Limited Warranty!
We offer a 5 year streak-free guarantee on roof cleaning. Best Guarantee in the industry!
We are Soft Wash Authorized!
Our Professionals are soft wash certified. We strive to use the safest and most up-to-date soft wash systems in the industry.
Enjoy Health Benefits!
Stops mold and other organisms from passing through your roof and into your attic.